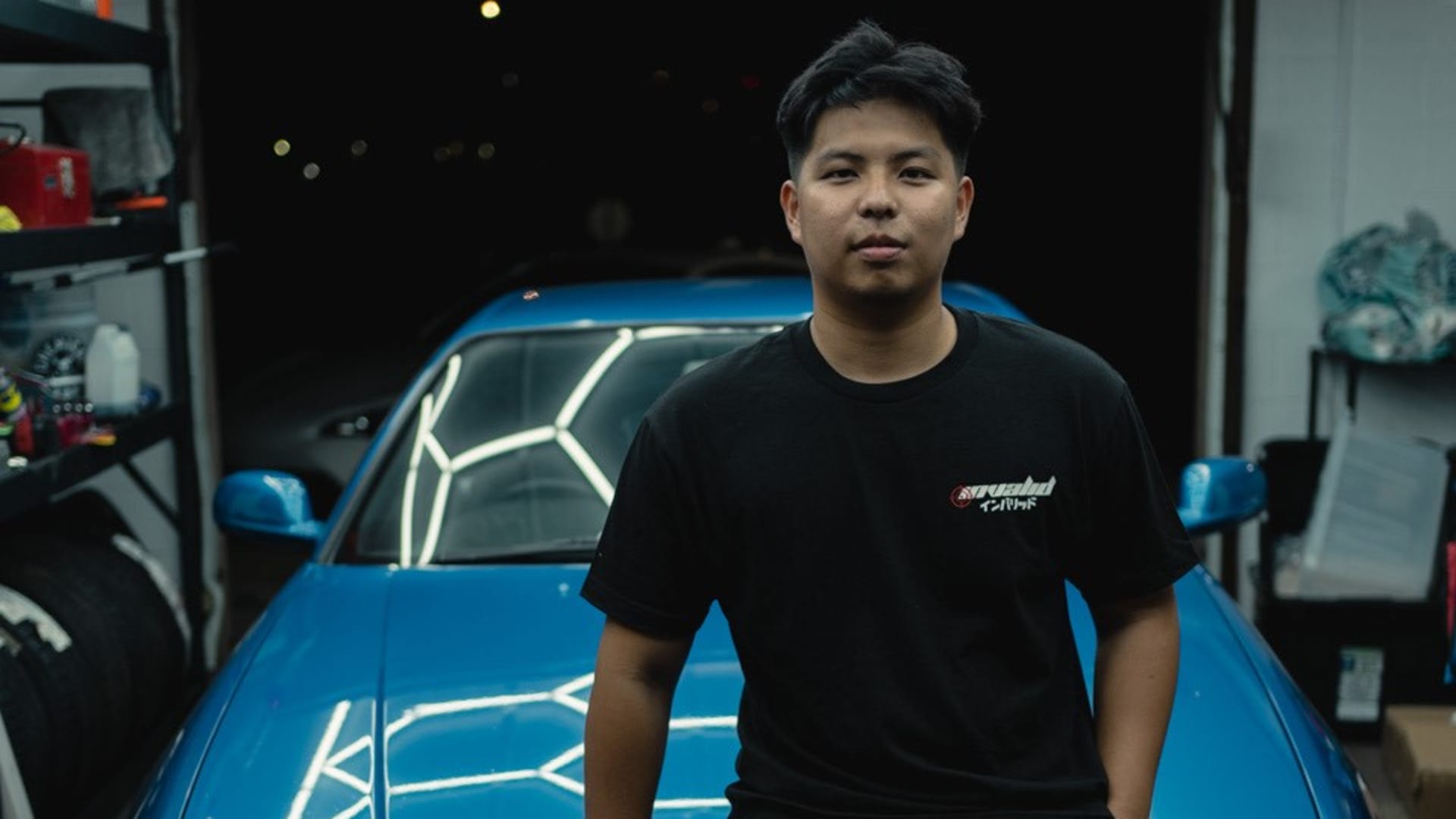 When Jayson Siu's car accessories side hustle first went viral, he was completely "unprepared."
It was October 2021, and a TikTok video about one of his products — an LED-lined rearview mirror — started racking up views. They turned into sales: $12,000 in a single day, Siu tells CNBC Make It.
Siu, then a freshman at the University of Hawaii at Manoa, ran to Office Depot and stayed for hours, printing then cutting labels by hand to fulfill the orders. A year later, another of his videos — one featuring an LED-backed light-up sticker — went viral, with more than 9 million views and counting.
Invalid.jp brought in $38,000 in revenue over the next 24 hours, says Siu.
In total, the business brought in $512,000 in 2022 revenue, and has already exceeded those sales this year, according to documents reviewed by Make It. Roughly 30% of those earnings are profit, Siu estimates.
Invalid.jp isn't really a side hustle anymore: Siu works at least 40 hours per week on top of a full class load, he says. Before renting a warehouse this past summer, he ran the business from his parents' two-bedroom apartment in Honolulu.
"I'm super stressed all the time," says Siu, 21. "It's not just a business in my [parents'] house where I can just, you know, pause it anymore. Now it really has to work."
Here's how he grew his side hustle, and how he manages his double life as a business owner and college student.
From stickers to car mirrors
Siu started Invalid.jp as a high school senior, working for a valet company. He wanted extra cash to buy accessories for his own car, a Nissan Rogue SUV, and stickers were popular among his peers. He spent $300 of savings from a previous side hustle on a $300 vinyl printer, selling stickers for $3 to $5 apiece to his friends on Snapchat.
Jayson Siu still customizes all of the stickers and mirrors himself.
Jayson Siu
Eventually, Siu's goal shifted to something more expensive: new parts for his car. That meant he needed to sell a more lucrative product. While researching, he found an LED-backlit rearview mirror on Instagram. "I could be the one selling this," he recalls thinking.
He ordered a $20 mirror from a factory in China, popped out the glass and placed LED lights on the inside — along with his most popular sticker, which says "drive safe." The backlighting made the sticker visible when he replaced the glass.
A friend told him that he could drive sales through TikTok, so he started posting videos "as often as possible," he says. As purchases trickled in, Siu recalls thinking to himself: "Yo, maybe this could be a real business."
Soon after his first brush with online virality, which came months later, Siu left his valet job.
A social media-fueled hit
Once the attention dried up, so did Siu's profits. Searching for more consistent sales, he turned to social media ads — and struggled.
"I was wasting, like, thousands of dollars," Siu says. "I was barely breaking even, even losing money some months. It was super unmotivating."
Ads on Snapchat, YouTube and Twitter, now known as X, didn't seem to help his sales — so he reallocated his marketing budget to TikTok, Google, Facebook and Instagram. The quality and reach of his campaigns improved, he says.
Siu added new product lines, like cupholders, visors and license plates — buying them wholesale, customizing them and reselling them for profits. His two most in-demand products remained stickers and LED mirrors, so he combined them to create the light-up stickers, which are customizable and can change colors when controlled with a small remote.
Siu doesn't recommend leaving them on while driving.
He attributes the viral video about the stickers — which, again, came just months after creating the product — to both his social media ads and his commitment to posting TikTok videos regularly.
The work-life balance struggle
The viral days can be highly lucrative. The social media ads help keep Invalid.jp's cash flow a little more consistent the rest of the year, Siu says.
Siu schedules his most of his college classes before noon, so he can spend the second half of the day working on Invalid.jp. His warehouse costs $1,500 per month, and he financed a Toyota 4Runner SUV — larger than the Scion coupe he was driving — to make fewer shipping trips to the post office, he says.
His mom and girlfriend help him manage and pack orders, he says. Recently, he hired a couple contractors to help him film and edit TikTok videos.
There aren't enough hours in a day to run a highly lucrative business and act like a traditional college student, says Siu — and right now, the business is winning. Long term, he hopes to hire enough people so that he can spend less time in the warehouse and more time with his family and friends at the beach.
He isn't exactly sure how long that'll take, and says he's started exploring other side hustle ideas with friends he's met online.
"I'm trying to figure that part out," he says.