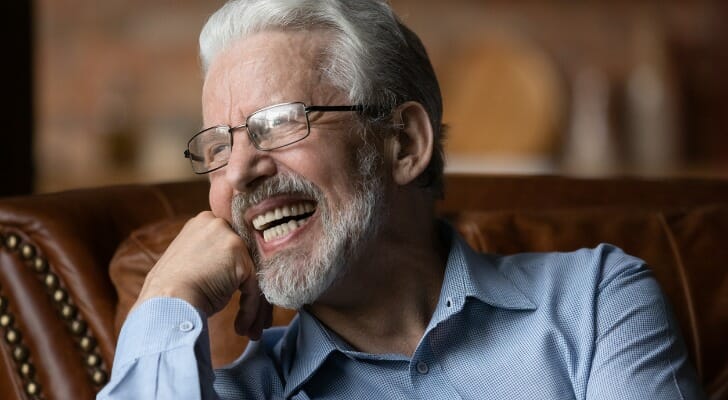 An annuity can be an appealing option to build your retirement nest egg. Adding guaranteed retirement income to your retirement can give you financial stability. But the exact amount that you'll get from an annuity each month will vary. Let's break down how much a $200,000 annuity will pay you each month. A financial advisor could help put a financial plan together for your retirement needs and goals.
What Is an Annuity?
An annuity is a financial contract between an investor and an insurance company that generally locks in a regular monthly payout in exchange for an investment. In some cases, you'll provide all of the funds upfront. In others, you'd make the payments to your insurance company over a long period of time.
After you provide the funds, your insurance company will make regular payments at a predetermined amount for a specific period of time. Most people who purchase annuities use the funds as an additional stream of income for retirement. But retirement is not a requirement. You can buy an annuity if you want a guaranteed source of income for any situation.
Factors That Impact Payments
The exact amount that you can expect from a $200,000 annuity will vary based on three factors:
The interest rate: When you sign up for an annuity, you'll see an interest rate defined in the contract. You'll want to lock in a high interest rate for higher payments.
When you want the payments: You can choose between an immediate annuity or a deferred annuity. An immediate annuity kicks in right away. But you'll typically see a higher monthly payment with a deferred annuity.
Type of annuity: The monthly payment you get from an annuity may or may not fluctuate. If you sign up for a fixed annuity, you'll lock in guaranteed monthly payments. If you sign up for a variable annuity, you won't find guaranteed monthly payments. Variable annuities are usually tied to market factors. So, if interest rates rise, your monthly payout might go up.
The table below gives examples of what a $200,000 immediate, lifetime, fixed-income annuity would pay, for annuitants of several ages. The figures derive from a Charles Schwab calculator.
Estimated Monthly Payments of a $200,000 Annuity
Age
Single Life Only
Single Life + 10-Year Certain
Single Life + 20-Year Certain
Single Life + Cash Refund
85
$2,586
$1,809
$1,203
$1,836
80
$1,945
$1,632
$1,197
$1,542
75
$1,551
$1,435
$1,173
$1,335
70
$1,294
$1,254
$1,118
$1,179
65
$1,132
$1,116
$1,045
$1,067
The unique details of your annuity will determine the monthly payout. Take the time to closely review the information in your annuity contract to make sure that your payment is what you want it to be.
Should You Get an Annuity?
Depending on your financial circumstances, an annuity could be a reliable stream of income for your retirement. One of the factors to consider is the need for reliable income. A fixed annuity provides a reliable income stream whether or not you are retired. A second factor to consider is your expected longevity. If you have a long life expectancy, then an annuity can help you support yourself for that extended period of time. A third factor has to do with how engaged you want to be in managing your finances. An annuity sends a monthly payment to you every month. You won't have to monitor investments, rebalance a portfolio or manage tenants to receive this income.
High fees: Unfortunately, most annuities have high fees involved. If you want to avoid fees, choosing another investment is the way to go.
No access to the principal: Once you sign up for an annuity, you won't be able to pull out your funds. So, if a major expense comes up, this principal is inaccessible.
Other savings priorities: If you want to save for other purchases, the costs of an annuity may be too much to commit to.
Bottom Line
An annuity can be a useful investment option that adds value to your retirement. But it's not the right choice for everyone. Depending on your financial circumstances you may want to also consider other options. If you can't decide whether or not an annuity is right for you then it's time to talk to a financial advisor. He or she can help you evaluate your entire financial picture to see where an annuity might fit into the picture.
Retirement Tips
Work with a financial advisor to help you map out a solid retirement plan. SmartAsset's free tool matches you with up to three financial advisors who serve your area, and you can interview your advisor matches at no cost to decide which one is right for you. If you're ready to find an advisor who can help you achieve your financial goals, get started now.
Saving for retirement starts with understanding how much you should save. SmartAsset's free retirement calculator can help you see how much you should be saving.
Photo credit: ©iStock.com/fizkes, ©iStock.com/FatCamera, ©iStock.com/insta_photos
How Much Does a $200,000 Annuity Pay Per Month?